Several posts on Twitter, Facebook, Whatsapp and Nairaland claim that one of the recruitment requirements for the Special Anti-Robbery Squad otherwise known as SARS is to be an ex-convict. The post which was broadly shared misinformed thousands by implying that all SARS officials are ex-convicts.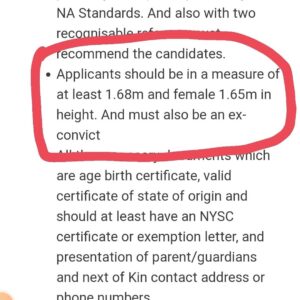 Many of the misleading posts on Twitter and Facebook have Screen-shots from a particular website by the name https://Scholarshipscorridor.com as one of the popular references to the false claim.  According to the said website, whose primary goal is to provide links to scholarship opportunities, job vacancies and recruitments in Nigeria.
The reference post with the misleading information was published on the 6th of October, 2020, with the headline SARS Recruitment Form 2020/2021 See Special Anti-Robbery Squad Jobs – www.npf.gov.ng. However, details of the recruitment weren't found on the Nigerian Police Force website – npf.gov.ng, which the headline suggests as its source.
Facts From Reliable Source
According to the Police Public Relations Officers, Deputy Commissioner of Police, Mr Frank Mba, in a text message response as reported by Dubawa, there isn't such a thing as SARS recruitment. SARS is not an Independent body, it is basically a unit within the Nigerian Police Force and under no circumstance is it capable of recruiting for itself.
Conclusion
Publications from the different website here and here alluding that SARS has basically requirements for recruitment other than that of the Nigerian Police Force is totally false and misleading. SARS is not able to independently recruit. Only the Nigerian Police Force can recruit police offers and deploy new intakes into different units within the police force.