Fact Check: Did Congolese Nobel laureate Denis Mukwege say Doctors Were Ordered to Declare All Illnesses as Coronavirus? – Lanre Olagunju
Multiple posts shared on Nairaland, Facebook, News blogs and WhatsApp claim that a Congolese Nobel Laureate, Dr. Denis Mukwege resigned from the COVID 19 response team. The post shares a false quote attributed to being culled from Dr Mukwege resignation note saying "I cannot in any case dirty my Nobel Peace Prize for money, we had been ordered to declare any illness to be coronavirus (sic) and any death. In addition, the thing that displeased me is that, after more than 100 samples none came out positive. I have a career to protect and I am Congolese by blood. Getting rich by lying is a sin before God, I quit."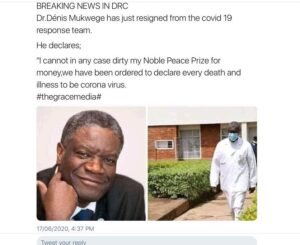 Background 
Dr Denis Mukwege is a gynaecologist in the Democratic Republic of Congo. He was awarded the UN Human Rights Prize in 2008, he was also named as one of the world's most influential people by the Time Magazine in 2016. In 2018, he was jointly awarded the Nobel Peace Prize in 2018 with Nadia Murad, an Iraqi activist for their contributions towards bringing a stop to the use of sexual violence as a weapon of war.
On the 30th of March, 2020, he was appointed to lead a committee in South Kivu province, where he also treats sexually abused women.
Reliable Facts From Credible Sources
In a statement released by Dr. Mukwege on Wednesday the 10th of June, reported by The New York Times and France24.com, the Nobel Peace Prize laureate, stepped down from a COVID-19 task force in eastern Congo.
Why he resigned.
One of the reasons for resignation includes the need for his hospital to focus on treating coronavirus patients because testing delay and other problems have allowed the crisis to deepen.
He criticized organizational weaknesses and inconsistencies between the various teams responsible for responding to the pandemic in the South Kivu province of DR Congo.
He expects the virus cases to keep mounting in Bukavu, where his Hospital, named Panzi, treats survivors of sexual violence and provide other health care services, therefore, he would devote himself entirely to his medical responsibilities and take care of the influx of patients.
In his statement, some of the challenges he outlined limiting the regional coronavirus response efforts, include delays of more than two weeks on test samples sent to a national laboratory in the capital, Kinshasa.
Furthermore in his statement, he said, "The longer it takes to identify positive cases, the greater the risk that more people will be infected"
Conclusion
No part of the statement as reported by the New York Times and France24.com has it that he was ordered to declare any illness or deaths to be coronavirus, neither did he say that after more than 100 samples none came out positive.
Dr. Mukwege via his Twitter handle on the 18th of June, 2020, warned that misleading statements or press releases that do not emanate from his official websites can not be considered genuine.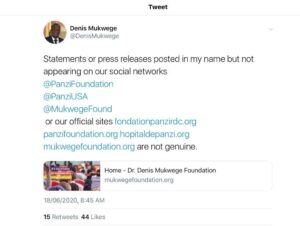 Lanre Olagunju is a Lagos based Fact Checker, he tweets from @Lanre_Olagunju on Twitter